Bodyboarding is a sport in which the student slides on the waves lying on a board. Although there are older records of Polynesian natives catching waves lying on floating surfaces, it was only in 1971, through Tom Morey, that this sport developed as we know it today. It is an easily accessible sport that can be picke dup quickly, hence its rapid growth in popularity worldwide.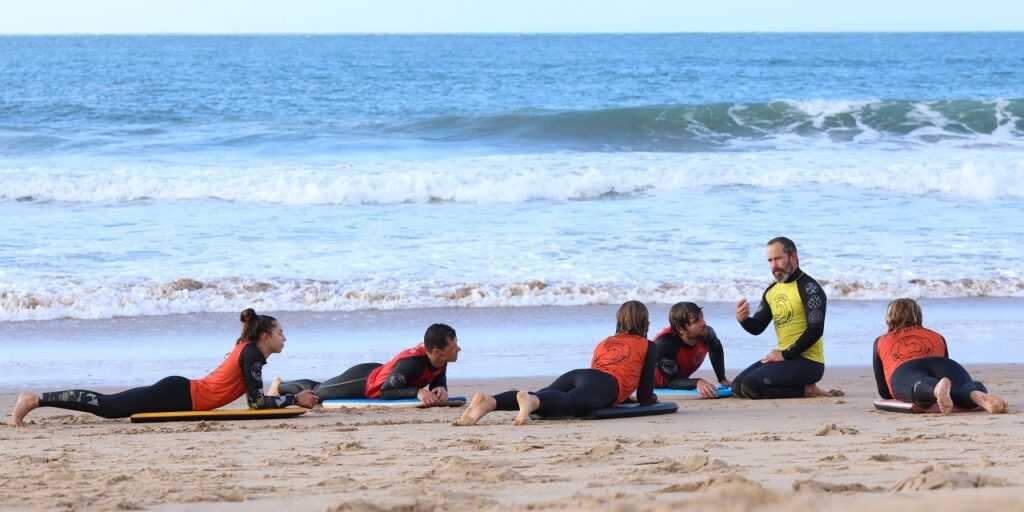 Teaching methodology
For better organization of the students and management of training, 7ª Essência thinks about the technical level of their students, their age, the environmental conditions, and the location of the class. As a result, to promote effective, target oriented and secure classes, six levels of learning were established, each with very specific goals.
The student only advances to the next level after fulfilling all the requirements of the previous one.
Beginners levels
Students have their first contact with the environmental conditions, they get to know the environment, their equipment, and the first techniques are approached.
| | |
| --- | --- |
| Level 0 | Level 1 |
| Introduction and maintenance of equipment | Ethics in water |
| Safety rules | Positioning techniques on the board |
| Reading the environmental conditions | Bodyboard basic positioning |
| Environmental and nature protection sensitization | White waves (foam) turning |
| Adaptation to the aquatic environment | Autonomy in the water |
| Adaptation to the aquatic environment and equipment | |
| Bodysurfing | |
Intermediate levels
Improvement levels. Students begin to have autonomy on the outside, start to catch their first green waves and the first techniques in the wall of the wave are approached.
| | |
| --- | --- |
| Level 2 | Level 3 |
| Lifesaving techniques | Introduction to competition |
| Take off | Forward 360º spin |
| Drop | Reverse 360º |
| Bottom turn | El Rollo |
| Duckdive | Linking tricks and manoeuvers |
| Triming | Maintaining good style |
| Cut back | |
Advanced levels
Advanced levels
Students already dominate the wave, perform tricks and maneuvers and begin to participate in the first competitions
| | |
| --- | --- |
| Level 4 | Level 5 |
| Competition rules | Simulation of the competitive context |
| Competition tactics | Back Flip |
| Simulation of the competitive context | 360º Air reverse |
| 360º reentry | 360º Air Forward |
| Air Roll Spin (ARS) | |
| Invert Air | |