Throughout their growth and maturation, children develop muscular strength and stamina, balance, coordination, agility and body awareness. For this reason, 7ª Essência created the Kids Program, a surfing and bodyboarding program designed specifically for children from 7 to 11 years of age, where the child's developmental stage and all of its other needs are taken into account.
In the Kids Program, classes include lots of games and activities that take into account both age and technical level of each child, so that they learn in a way that is exciting, fun, unique and effective.
The lessons take place on the weekends at the beaches of Carcavelos, Guincho and/or Saúde. During school holidays, Surf and Bodyboard lessons are also taught during the week and may include surf trips outside the region of Lisbon.
As the main concerns of 7ª Essência are the safety and quality of teaching, class time is always adjusted to sea conditions.
Teaching Methodology for Surf and Bodyboard Lessons for Kids
The teaching methods used are centred around the psychomotor development of each child and are targeted to their individual needs. With this in mind, to give individually oriented instruction, in effective and safe classes, we have established six levels of learning with the following set of level-specific goals.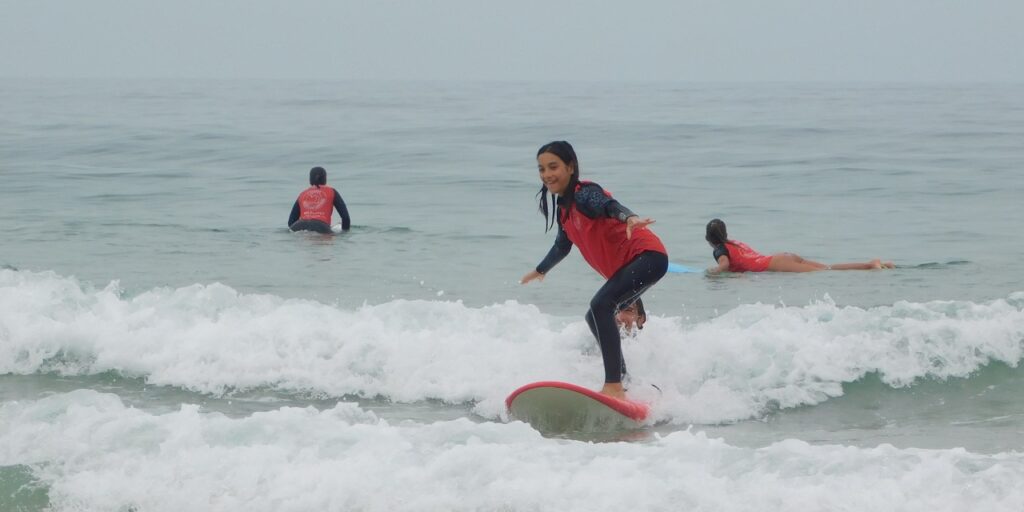 Beginners levels
Level 0
Introduction and maintenance of equipment
Safety rules
Reading the environmental conditions
Environmental and nature protection sensitization
Adaptation to the aquatic environment and equipment
Bodysurfing
Level 1
Positioning techniques on the board
Paddling techniques
| | |
| --- | --- |
| Prone position | Prone position |
| White waves (foam) turning | White waves (foam) turning |
| Basic take off | |
Level 2
| | |
| --- | --- |
| Correct surfing position | Take off |
| White waves (foam) turning standing up | Drop |
| | Bottom turn |
Improvement levels
Level 3
| | |
| --- | --- |
| Autonomy | Duck dive |
| Turtle (roll on) | Triming |
| Pop up | Cut back |
Level 4
| | |
| --- | --- |
| Positioning on the outside | 360º |
| Choosing and catching waves | |
| Duck dive | |
| Drop | |
| Bottom turn | |
Level 5
| | |
| --- | --- |
| Top turn | El Rollo |
| Trimming | Linking tricks and manoeuvers |
| Tricks and maneuvers | |