7ª Essência develops all kinds of programs and activities across the whole country, though we have a greater presence in the district of Lisbon, taking advantage of the natural potential that Oeiras, Cascais, Sintra and Mafra offer. Based on Surfing, Bodyboarding, SUP, leisure and adventure, we aim to promote a healthy lifestyle in union with nature. Our clients have the freedom to define which activities they wish to carry out, the duration, the place, the days, etc.
Holiday Surf Camps
Our holiday camps are for children and young people who wish to occupy their free time in a healthy and fun way. They can surf, bodyboard and stand up paddle, socialize with other young people, to enjoy a really different type of break from school. Learn more »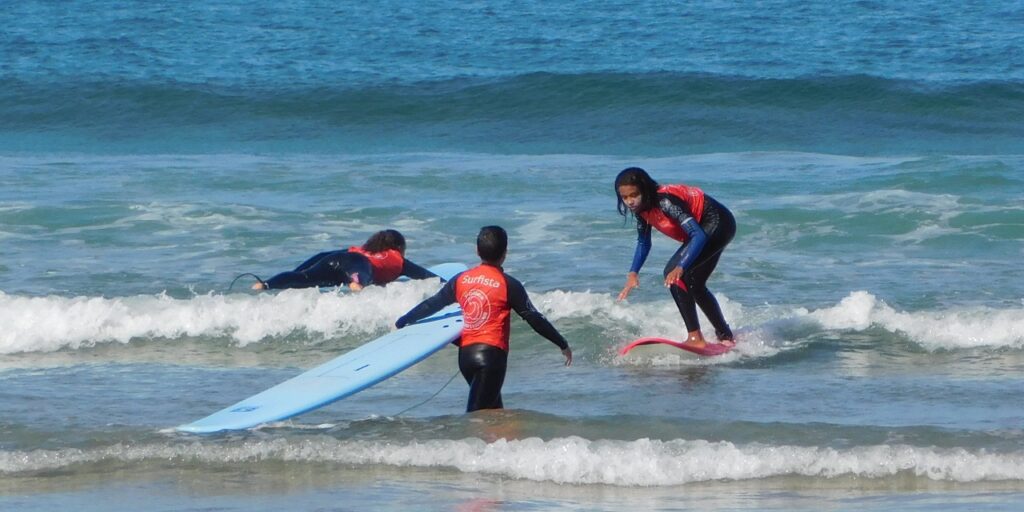 Birthday parties
On this special day, 7ª Essência can provide a different, fun and unforgettable activity for the birthday child, their friends and the rest of the family, promoting Surfing, Bodyboarding or Stand Up Paddle, as well as other games and activities.
Team Building
7ª Essência organizes activities based on Surfing, Bodyboarding and Stand Up Paddle, to provide moments of pure fun and create a good team spirit.
Erasmus Program
7ª Essência offers special conditions for Erasmus students in Surfing and Bodyboarding classes.
To benefit from this, students simply need to provide proof of university attendance (card or registration certificate) and we will provide transport from Lisbon to the beach.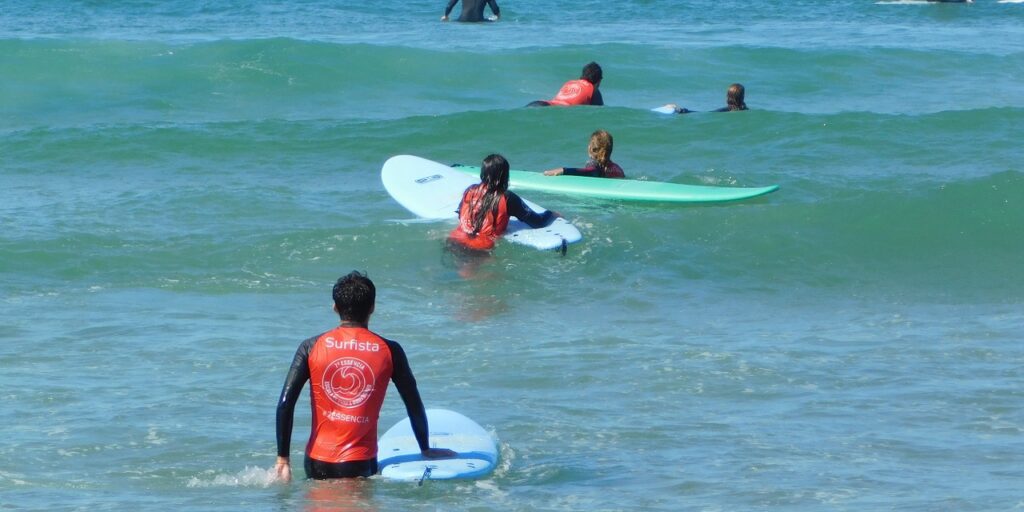 Surf Guide
A Surf Guide is the best option for surfers with an intermediate or advanced level of surfing, who would like to get to know the best spots in the region, with the accompaniment of an experienced surfer who knows the region.
This service includes transport to the beach with the best waves on the day (within a 50 km radius), equipment where needed, personal accident insurance and a photo diary of the trip.
Surf Tours
7ª Essência also organizes Surf Tours, from Lisbon or Ericeira, to the most diverse surfing locations in Portugal, including Peniche, Nazaré, the Costa Alentejana, amongst others.
Surf Trips
Getting to know new surf spots and new beaches gives surfers a positive evolution of their technical level. In this sense, 7ª Essência organizes national and international surf trips, where we introduce participants to the surf spots, and give teaching and technical advice to the participants.